If you want to improve the installation efficiency of the Wrought Iron Picket Fence, you must first fix it with stainless steel shrapnel, then fix the cross bar on the column, and add the horizontal and vertical bars, which greatly improves the installation efficiency. Fixing will only increase the cost, and it will not improve the efficiency of installation.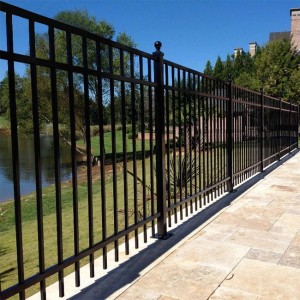 There are also column holes reserved, so that the crossbar can be directly placed in the hole, but the Wrought Iron Picket Fence has its own installation steps, which can improve work efficiency step by step, so it depends on the constructor. Think, don't worry, try to improve the installation efficiency as much as possible.
Wrought Iron Picket Fence solve the shortcomings of traditional fences, and the price is moderate, becoming a substitute for traditional balcony fence materials. The zinc-steel fence is installed in a non-welded interspersed combination. The thickness of the base material is 2-3 times that of stainless steel. More than 500 colors are available. The surface adopts the European imported Akzo Nobe anti-oxidation powder electrostatic spraying to enhance the anti-oxidation of the fence. UV resistance, weather resistance and corrosion resistance.
---
Post time: Jun-07-2021