It is made of high-quality carbon steel wire and stainless steel wire through by our automatic machines.
The grassland fence is made of high-strength galvanized steel wire automatic machinery. It is a widely used protection of ecological balance, prevention of landslides, and animal husbandry fences.
Features of products:
Flat mesh surface, firm and precise structure, well-distributed mesh, strong integration, etc. Even if part of the wire mesh is cut or pressed, it will not loosen. Grassland fence is corrosion resistant.
* Application: Fence for feeding deer, sheep and cow, or other fences.
Weaving process:
(1) The loop-type grassland net is formed by the machine twisting the warp and weft loops;
(2) The warp and weft thread of the piercing grassland net is formed by locking the piercing;
(3) The wrap-around grassland net is automatically twisted by special mechanical equipment.
The grassland fence is mainly used for: grassland construction in pastoral areas, grassland can be fenced and fixed-point grazing is implemented, and grazing is carried out by fences. It is convenient for the planned use of grassland resources, effectively improves grassland utilization and grazing efficiency, prevents grassland degradation, and protects the natural environment.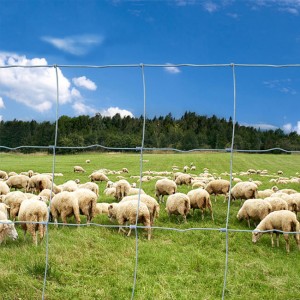 Features of the grassland fence:
1. The deer fence is braided with high-strength galvanized steel wire, with high strength and high tensile force, which can withstand the violent impact of cattle, horses, sheep and other livestock. Safe and reliable.
2. The surface of deer fence steel wire, galvanized ring surface is galvanized, and other parts are rust-proof and corrosion-resistant. It can adapt to harsh working environment and have a service life of up to 20 years.
3. The deer fence braided weft thread adopts the rolling wave process, which enhances the elasticity and buffer function, and can adapt to the deformation of cold shrinkage and thermal expansion. Keep the net fence tight.
4. The deer fence has simple structure, easy maintenance, short construction period, small size and light weight.
  Specification:
CATTLE

 

FENCE

Mesh sizes
G. W.(kg)
Wire

 

Diameter(mm)

7/150/813/50
102+114+127+140+152+178
19.3
2.0/2.5mm
8/150/813/50
89(75)+89+102+114+127+140+152
20.8
2.0/2.5mm
8/150/902/50
89+102+114+127+140+152+178
21.6
2.0/2.5mm
8/150/1016/50
102+114+127+140+152+178+203
22.6
2.0/2.5mm
8/150/1143/50
114+127+140+152+178+203+229
23.6
2.0/2.5mm
9/150/991/50
89(75)+89+102+114+127+140+152+178
23.9
2.0/2.5mm
9/150/1245/50
102+114+127+140+152+0178+203+229
26.0
2.0/2.5mm
10/150/1194/50
89(75)+89+102+114+127+140+152+178+203
27.3
2.0/2.5mm
10/150/1334/50
89+102+114+127+140+152+178+203+229
28.4
2.0/2.5mm
11/150/1422/50
89(75)+89+102+114+127+140+152+178+203+229
30.8
2.0/2.5mm
---
---