Double wire fence system is a rigid yet unobtrusive mesh fencing system.It is often used as fence for industrial or commercial premises and sports pitches where a strong mesh fencing system required.
Material: Q195, steel wire
Surface treatment method of double wire fence:
1. Straightforward and quick processing method: cold galvanized, white; spray plastic, green, white, red, black, yellow, etc.
2. More common processing method: dip plastic, color optional: grass green, ink Green, white, yellow, black, red, etc.
3. The best treatment method for anti-corrosion performance: adopt hot-dip galvanizing and plastic dipping treatment, anti-corrosion performance for life.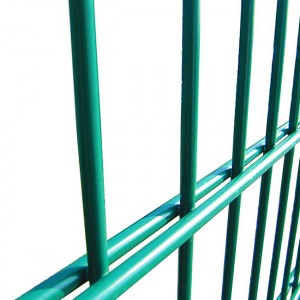 Application:
It is used for fencing most industrial sites, sporting fields, multi-games area, protection of schools and nurseries, Corporate or college campuses, housing projects, healthcare or research facilities, Airports, parking facilities, commercial and industrial properties, pools, amusement parks, tennis courts, public parks and playgrounds, etc.
Feature of Double wire fence:
It has the characteristics of high strength, good rigidity, beautiful shape, wide field of vision, easy installation, feeling bright, light and practical. The connection between the mesh and the mesh column is very compact and the overall feeling is good.
Specification:
Double wire fence

Panel size(mm)

Hole size(mm)

Wire Diameter(mm)

Post Height(mm)

630×2500

50×200

8×2+6

6×2+5

6×2+4

1100

830×2500

50×200

8×2+6

6×2+5

6×2+4

1300

1030×2500

50×200

8×2+6

6×2+5

6×2+4

1500

1230×2500

50×200

8×2+6

6×2+5

6×2+4

1700

1430×2500

50×200

8×2+6

6×2+5

6×2+4

1900

1630×2500

50×200

8×2+6

6×2+5

6×2+4

2100

1830×2500

50×200

8×2+6

6×2+5

6×2+4

2400

2030×2500

50×200

8×2+6

6×2+5

6×2+4

2600

2230×2500

50×200

8×2+6

6×2+5

6×2+4

2800

2430×2500

50×200

8×2+6

6×2+5

6×2+4

3000

Customization accepted
---
Previous:
868 Double Wire Fence
---