Temporary fence also named Australia temporary fence
Material:iron,steel,galfan wire
Surface finish:hot-dip galvanizing,dip-coting,spray blasting
Product process: centering elbow, argon arc welding, surface polishing, rubber foot cover
Column: square tube round tube peach column new anti-theft column round tube is the most common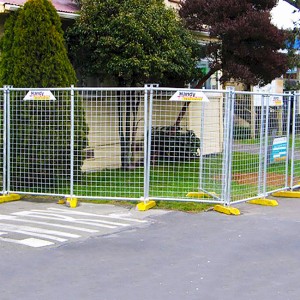 Application:
Temporary fence are suitable for engineering construction, temporary isolation, road construction to water and electricity, temporary isolation in communities, schools, and other places, as well as temporary isolation and protection for large-scale events, marathons, and sports concerts.
Unique design:
1) It is not easy to be damaged. Specially formulated high-strength and high-toughness galvanized pipe is selected to produce a high degree of resistance to the usual damage factors such as falling, bumping and bumping;
2) Strong weather resistance and high oxidation resistance. Not easy to rust;
3) The color of the fence is distinguished by directions, and the male and female buckles of the hanging fasteners will not be mistaken. It is simple and easy to identify;
4) The entire design is mainly composed of components and is easy to place.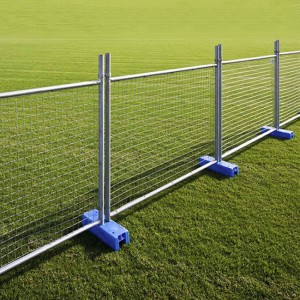 Specifications as follow:
TEMPORARY  FENCE
Welded mesh
Hole Size

50x50mm, 50x150mm, 60x150mm, 100x200mm

Wire diameter

2.8mm-4.0mm

Panel width

2.1m, 2.4m, 3.0m

Frame
Pipe size

Ø25mm-48mm, black pipe or galvanized pipe

Wall thickness

1.2mm-2.5mm

Whole height

1.8m, 2.1m

Accessories
Plastic base: The fully enclosed plastic base can be filled with sand cement; Hollow plastic base can be cast concrete cement in hollow part
Iron base: Rectangular base of plate base and tube products welding
Connection

Regular fence accessories, clips

Customization accepted
---
Next:
Temporary Fence Panel
---