Welding Temporary fence also named Australia temporary fence
Material:iron,steel,galfan wire
Surface finish:hot-dip galvanizing,dip-coting,spray blasting
Column: square tube round tube peach column new anti-theft column round tube is the most common
 Application: It can be reusable or rented; Used as temporary barrier, safety isolation, road leading and order maintaining for municipal, engineering construction, important gathering festival or sports events.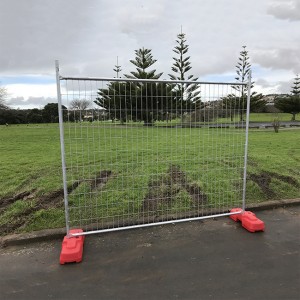 unique design:
1) It is not easy to be damaged. Specially formulated high-strength and high-toughness galvanized pipe is selected to produce a high degree of resistance to the usual damage factors such as falling, bumping and bumping;
2) Strong weather resistance and high oxidation resistance. Not easy to rust;
3) The color of the fence is distinguished by directions, and the male and female buckles of the hanging fasteners will not be mistaken. It is simple and easy to identify; 4) The entire design is mainly composed of components and is easy to place.
Specifications as follow:
TEMPORARY  FENCE
Welded mesh
Hole Size
50x50mm, 50x150mm, 60x150mm, 100x200mm
Wire diameter
2.8mm-4.0mm
Panel width
2.1m, 2.4m, 3.0m
Frame
Pipe size
Ø25mm-48mm, black pipe or galvanized pipe
Wall thickness
1.2mm-2.5mm
Whole height
1.8m, 2.1m
Accessories
Plastic base: The fully enclosed plastic base can be filled with sand cement; Hollow plastic base can be cast concrete cement in hollow part
Iron base: Rectangular base of plate base and tube products welding
Connection
Regular fence accessories, clips
---
Next:
Temporary Fence Panels
---